friends [-arcs] <name1> [-arcs] <name2>

Description
Edit
Friends will allow you to keep a list of your friends and check who of them that are currently logged on.
-c Clear friendslist. Ex: 'friends -c'
-r Remove friends. Ex: 'friends -r crovax'
-a Add friends. Ex: 'friends -a opeth'
-s Show friendslist. Ex: 'friends -s'

You can also combine those above. Their priority is as listed.
Ex: 'friends -a crovax -r spock -s'
If you use the same option more than once, only the last will count. (It is not possible to do: friends -a crovax -a spock)
This will add crovax to your friends list, remove spock and then show your current updated friends list. No argument will give you the list of those in your friendlist that are logged in.


Examples
Edit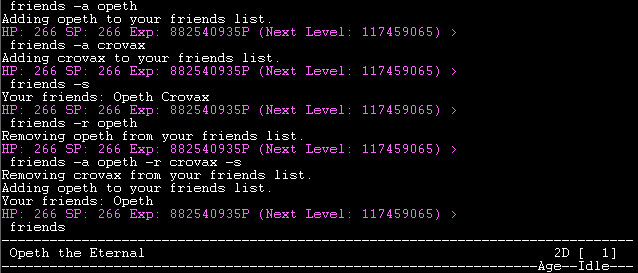 Ad blocker interference detected!
Wikia is a free-to-use site that makes money from advertising. We have a modified experience for viewers using ad blockers

Wikia is not accessible if you've made further modifications. Remove the custom ad blocker rule(s) and the page will load as expected.